TV Settings for Ugoos RK3288 and RK3368 devices
Last week we showed what we perform for Gamers. However, gamepad settings is not only the one thing we prepared for this release. After every new update, we are looking forward to get feedback from our active users. Picking up all the details and invoices from customers helping us to choose further path and plans for improvements. So for the majority of people, the main advantage in our android TV Boxes is the simplicity, user-friendly interface and convenience. We are trying to raise up our good sites and to get rid of the bad ones.
For this release, we decided to add TV Settings for default.
Now when you run settings you will see this screen menu: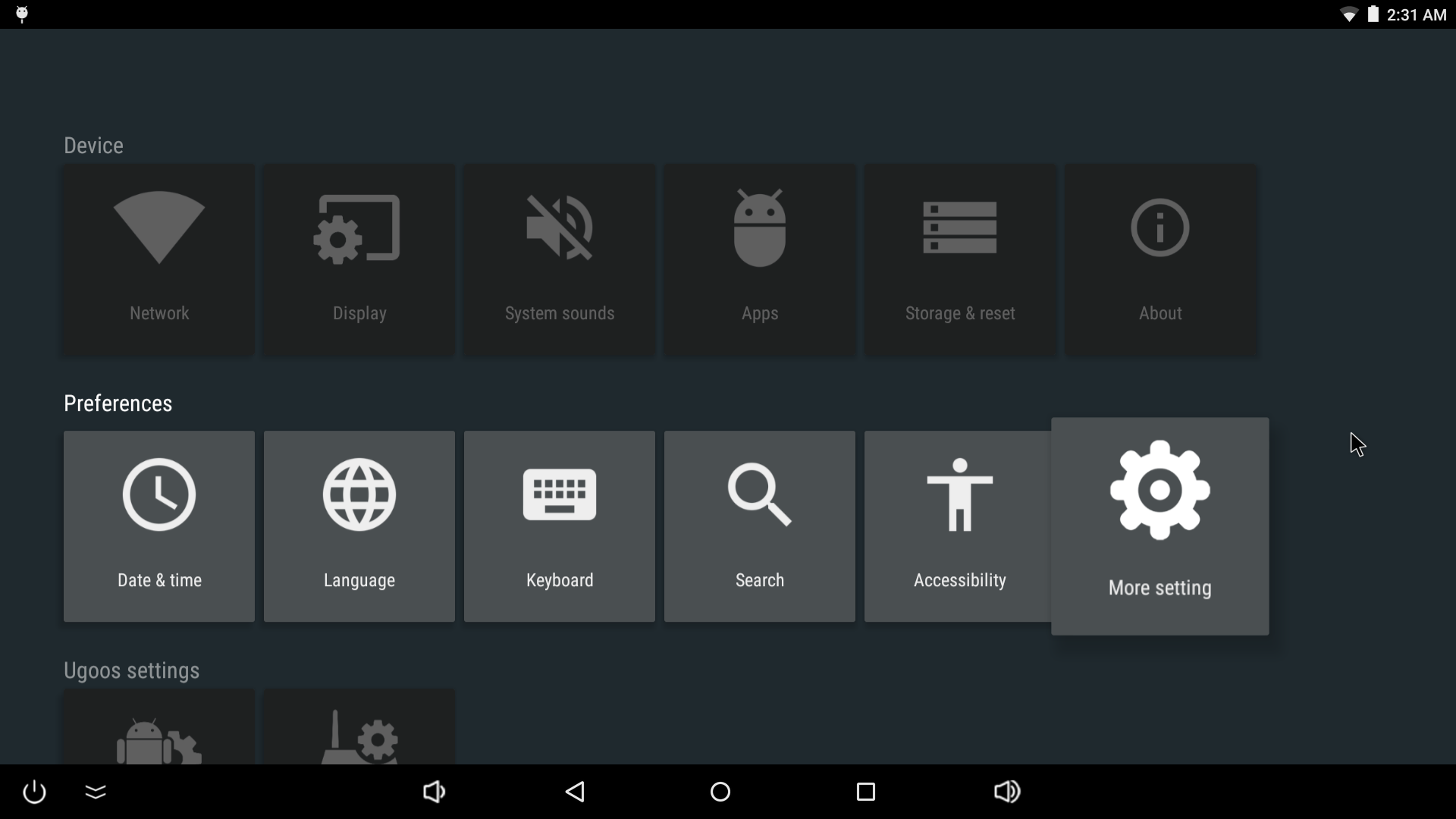 ​
TV Settings it is application developed by Google special for Android TV . We expanded functionality of this app to get users more convenient access. In order to avoid horizontal scroll we decided to place settings icons in another formation.
In addition, we decided to distinguish Ugoos Settings. Therefore, we create a new item in settings with the same name and create new icons for them. In main settings, we separate all of them on two parts:
System Ugoos settings
Hardware Ugoos settings
System settings:
Root feature (lets you root your device in one click without installation third party software and reboot)
File server (lets you share files from your TV box and attached usb devices to local network)
Gamepad settings (lets you customize gamepad controller)
Hardware monitor (gives you an ability to display hardware and other values in upper bar)
Fireasy (turn your mobile phone into functional controller via Bluetooth or Wi-Fi protocols)
Hardware settings:
Fan control (lets you change the fan working scheme)
Led control (gives you an ability to turn on/off led indicator or make it active on demand)
USB Switch feature (this is the same function as "connect to PC" in USB settings, gives you an ability to discover your TV box from host PC, run ADB and so on)
Our main reason to add TV Settings was to perform a more user-friendly interface for remote controller and reduce the necessity to use the mouse.
You always can get back to standard settings, for this run Preferences – More setting
Update will available during next week via OTA for RK3288 and RK3368 brand Ugoos devices. Separate files for manual update and full firmware packages will be available for download in our Download Center.
We are waiting for your suggestions, feedback is very important for us!
---
Find us:
---
Comment(S) (6)
Comment by Lovator | Monday, May 9 2016, 11:44PM

perfect solution google android tv , I look forward to an update for rk 3288

Comment by Jiri Dostal | Tuesday, May 10 2016, 11:31PM

Well, still no progress in terms of native Miracast/DLNA support?

Comment by cjeman | Wednesday, May 11 2016, 02:24AM

4k support returning? Kodi nearing Jarvis?

Comment by Ava | Wednesday, May 11 2016, 05:41PM

Jiri Dostal, you can use preinstalled eHomeMediaCenter app as DLNA server/player.

Comment by Jose | Sunday, May 15 2016, 08:05AM

Where buy remote control UT4?

Comment by Jose | Tuesday, May 24 2016, 03:34AM

es un launcher muy minimista y esta muy bien presentado. Que cambiaría, nada. Ugoos, i need a favor, please, next firmware, ugoos ut4, incluye al remote control the Tronsmart R3368, maybe other boxes.
Успешно отправленно