Since Ugoos UT3 model, we have no any other model with HDMI Input and interface for it.
HDMI IN function extended functionality, perform a great bunch of new options for casual users, and solved a lot business tasks for our OEM clients. Picture in picture (PiP) function lets device to show another video source running via HDMI in android and linux firmwares.
Now in UT3+ we extended functionality for a row of main functions:
VIDEO PLAYBACK.
In UT3+ we implemented a new Toshiba HDMI Input chip in order to perform video playback from external source. Now all operations with HDMI IN source runs at higher speeds as well. There is a pre-installed application for input video source, which lets you start recording just in three clicks on your remote controller.
When you start HDMI IN application it shows full screen image of input source you attached (any hdmi source). In order to start recording, you need to press menu button on your remote controller and you will see following menu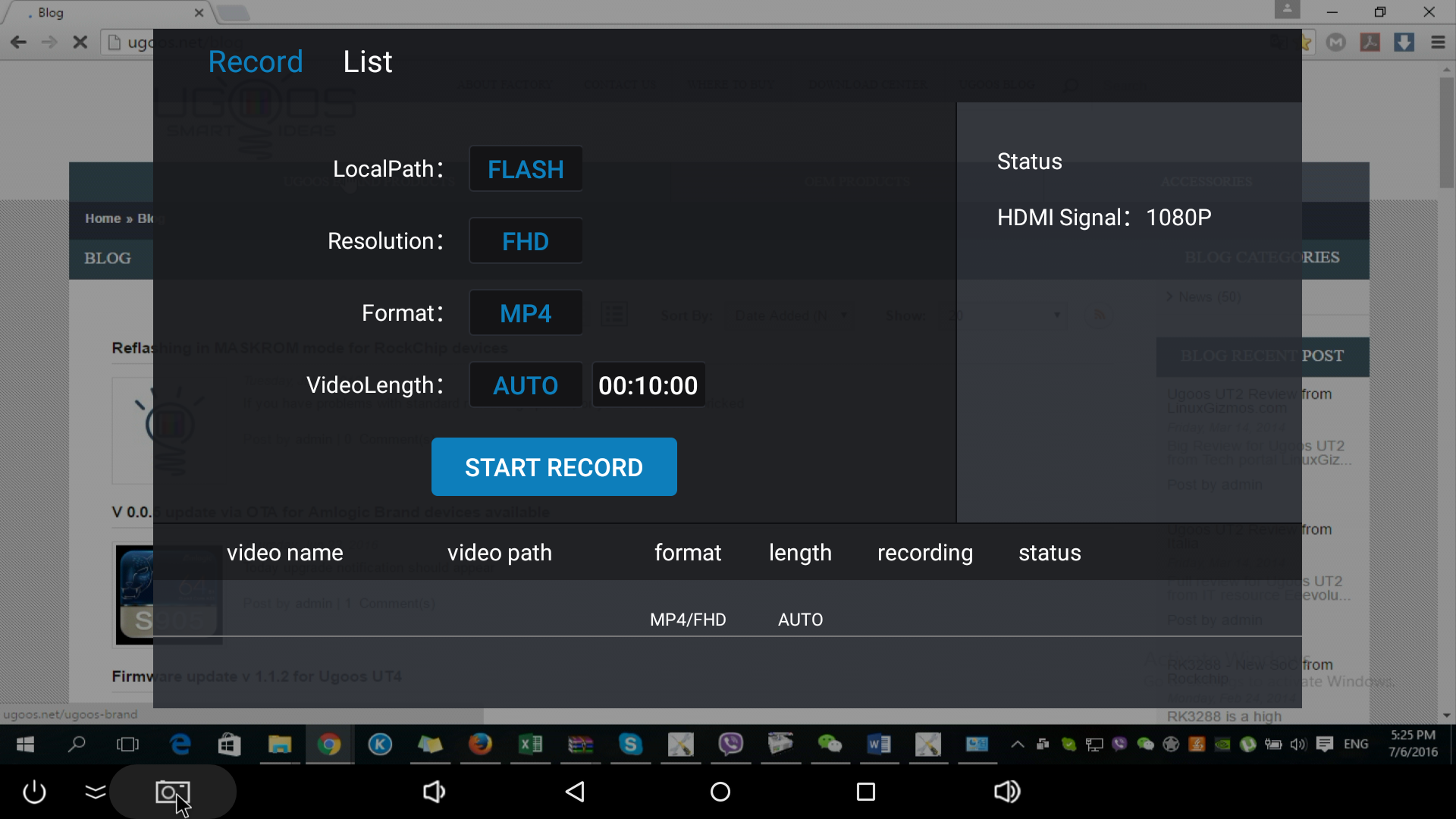 There are two tabs: Record and list
Record shows processing, current status for recording, start/stop button and other properties.
List shows all previously recorded videos, menu button can edit files (rename or delete)
Application saves files in Internal Flash/DCIM/My CameraApp/
Video recording settings:
1080p up to 60fps
2 line audio
PiP function
In UT3+ we recreate PiP function for android firmware. This time we decided to put PiP activation in power menu.
Long power button press or mouse click on the power icon in the lower bar activate it and you can see the start PiP menu. PiP window shows you three main buttons: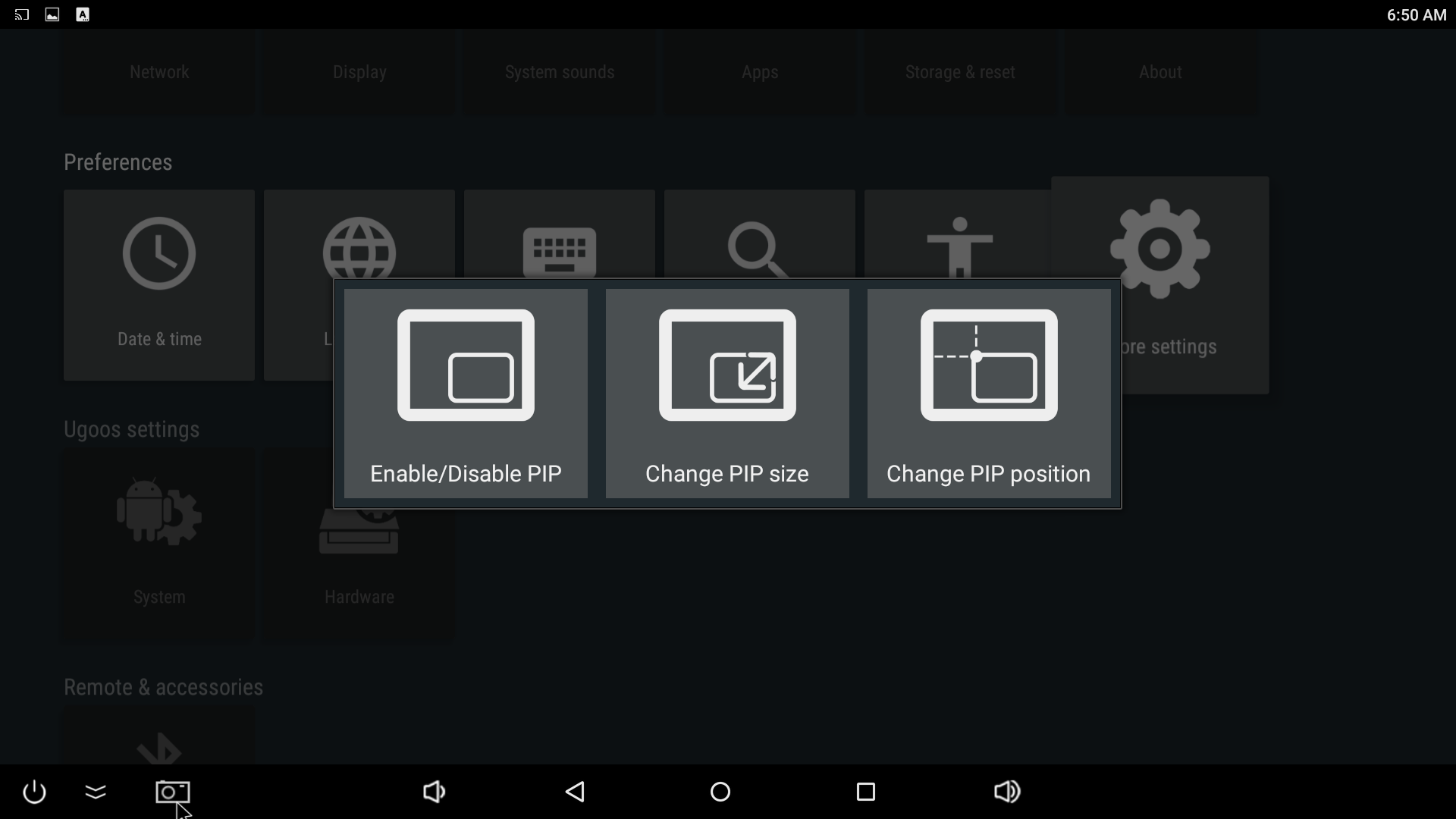 If your already put the source to HDMI IN port you will see real time image in random window. PiP window is fully customizable: you can move it or change the size according to your tasks. PiP window stays always on top.
In "change PIP size" mode you can select aspect ratio using RC "menu" button. System offers 4:3 16:9 and custom aspect ratio.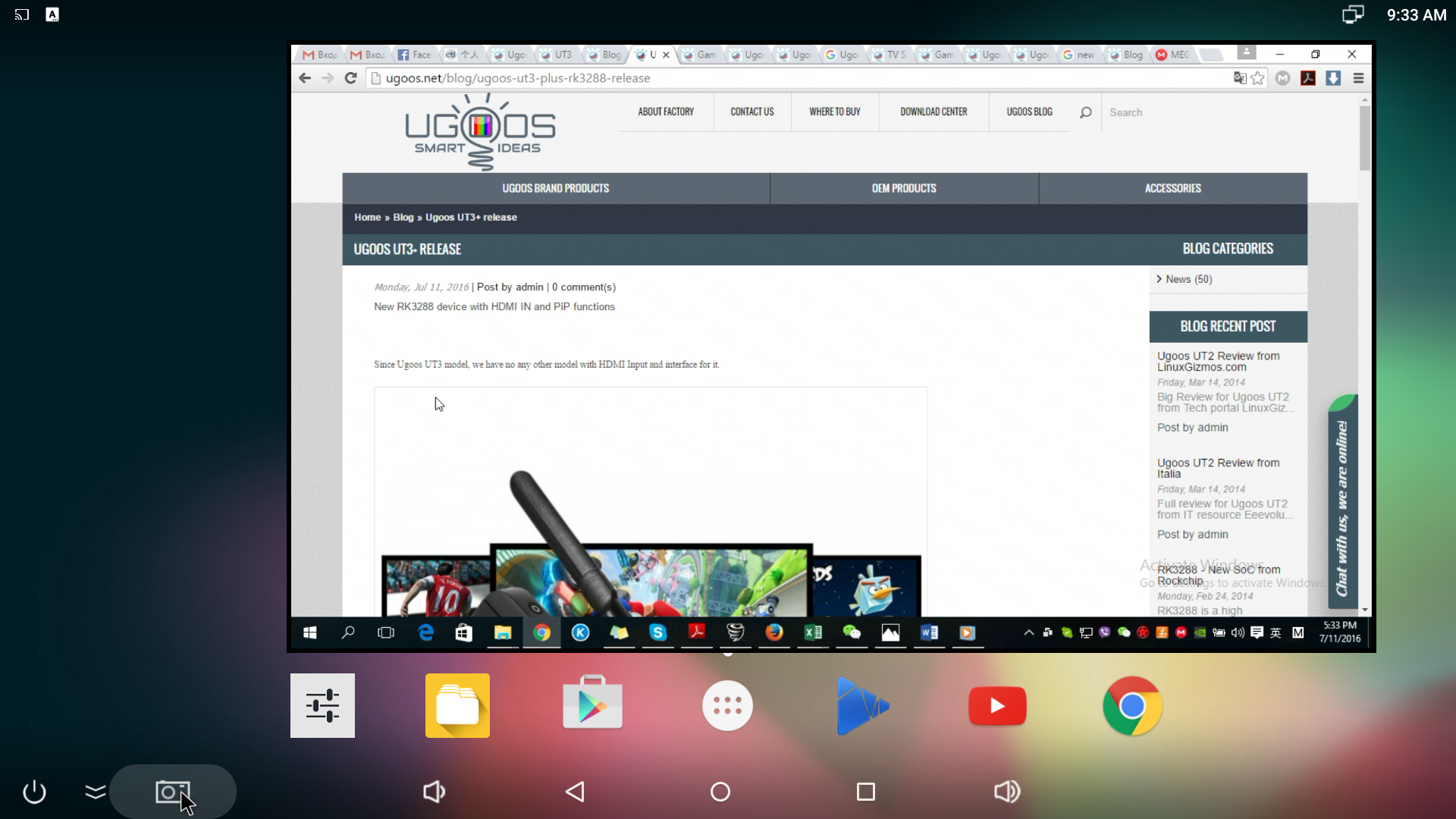 UT3+ based on RockChip 3288 SoC so we put all the advantages of our best seller Ugoos UT3s in it also:
Ugoos Settings - complex of special tools created for Brand Ugoos TV Boxes
System settings:
Root feature (lets you root your device in one click without installation third party software and reboot)
File server (lets you share files from your TV box and attached usb devices to local network)
Gamepad settings (lets you customize gamepad controller)
Hardware monitor (gives you an ability to display hardware and other values in upper bar)
Fireasy (turn your mobile phone into functional controller via Bluetooth or Wi-Fi protocols)
Hardware settings:
Fan control (lets you change the fan working scheme)
Led control (gives you an ability to turn on/off led indicator or make it active on demand)
USB Switch feature (this is the same function as "connect to PC" in USB settings, gives you an ability to discover your TV box from host PC, run ADB and so on)
Ugoos Launcher - ugoos brand tool designed special for TV Boxes in order to perform more capability with Remote controllers More details in this article
Ugoos Gamepad Settings - brand new settings class giving ability to customize control functions for attached gamepads. More about this in the following article
Here is the link for full Image release
https://mega.nz/#!cQpl0ICS!8EgHddI3_PXQsSe-TSrkHfxdHCmkbckNWBYuLhfuA7w
---
Find us:
---
Comment(S) (7)
Comment by Ben | Monday, Jul 11 2016, 01:40PM

When this rom will be available for ut3? Not HDMI IN, but RKMC

Comment by mo123 | Monday, Jul 11 2016, 02:29PM

Hi Ben The ROM can also work on a UT3, you can have a try. You will just not be able to use the HDMI-IN feature or the HDMI-IN app.

Comment by Ava | Monday, Jul 11 2016, 02:55PM

Hi all, i think today we finish testing of 3.0.7 firmware for UM3/UT3/UT3S, and tomorrow we will release them.

Comment by Ben | Monday, Jul 11 2016, 03:08PM

Ava and mo123, thank you both :)

Comment by cnxsoft | Tuesday, Jul 12 2016, 05:59AM

Has it just been released to resellers for now? I can't find any links for individuals to buy it.

Comment by Gabor Hock | Thursday, Jul 28 2016, 08:53AM

Hi, I would be interested in an English manual of the device Ugoos UT3+. Thank you, G. Hock

Comment by cantonic | Monday, Aug 15 2016, 11:00AM

Hi, can I write my own app to encode the hdmi-in video signal, and stream it by network?
Успешно отправленно