Ugoos UT3/UT3S/UM3 Linux firmware for SD-card.
Hello! We glad to announce you that you no longer need to reflash your device if you want try Linux... Now you can run Linux on your device from SD card. Special for that we make special images with linux firmware for SD-card. Images availlible for Ugoos UM3, UT3 and UT3S devices.
It is will allow not only run linux on your device very fast without data loss, but also resume working on the other device in short time. For that you need only to get SD card from one device and paste them into another.
For flashing image to sd card in linux you can use dd command
sudo dd if= of=
example:
sudo dd if=UT3_SD_LINUX_0.3.0.img of=/dev/sdc
For flashing image to sd card in Windows you can use Win32 Disk Imager: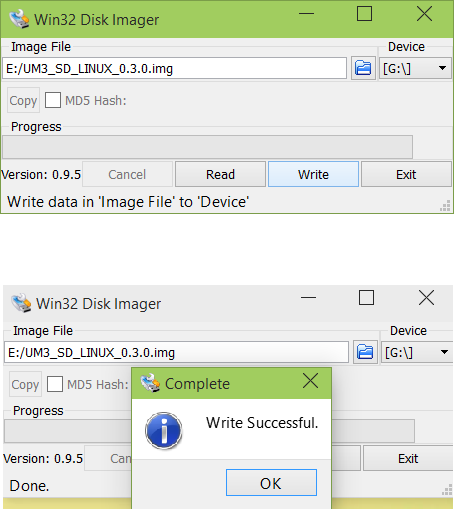 Downloads:
Win32 Disk Imager - download
Ugoos UT3 - dowload
Ugoos UT3S - dowload
Ugoos UM3 - dowload
Find us:
---
Comment(S) (5)
Comment by Manuel | 25.10.2020

good, I'm going crazy ... I already downloaded 5 times the dualbott 3.1Ubuntu and android for the ut3s and there is no way to install ... But if you let me install the other updates other than dualbott ... Nor does XUbuntu start from the Sd I need the help that it may be because it burned the image on the sd and I put it in the SD port and it started ut3s and it does not start anything black screen ... if I remove the sd if it starts android. The cause that does not allow me to install dualbott does not detect the images downloaded several times but if I download any for only android I have no problem with updating

Comment by S Canfield | Thursday, Apr 16 2015, 05:06AM

I purchased another Ugoos product UM3 because i wanted dual boot... this unit (UM3) will NOT work with 4k monitor (Seiki 39" 4k) works o.k. with Android but video is NOT as advertised. High res video is glitchy and not enjoyable to watch. Wasted $129 I think

Comment by Andre G | Tuesday, Jun 16 2015, 05:03PM

Hi, guys. Any idea on how to install Eclipse? Any linux version x86/x64 shows me the "exec format error" when trying to run the eclipse executable. It seems it's not recognizing the processor's architecture. Has anyone had any sucess with that?

Comment by Olivier POULNAIS | Monday, Jul 27 2015, 09:51AM

Hello thanks for deploying this ubuntu distribution bootable on UM3 on SD card ; that works great on my device. I'm very happy with performance of this 4 process device. Good Job ! Olivier

Comment by yev | Saturday, Jun 4 2016, 07:35PM

the links to images download are broken
Успешно отправленно