Nougat Beta Release For Ugoos UT3/UT3s/UM3
IMPORTANT: This BETA release based on Tablet SDK for RK3288 chipset.
One of the main Ugoos Team goals is to provide a long-term support to our products. We had several severe problems that cause long development process due to source data absence.
Now we would like our users to test first Android 7.1.2 build for RK3288 TV Boxes and Dongles.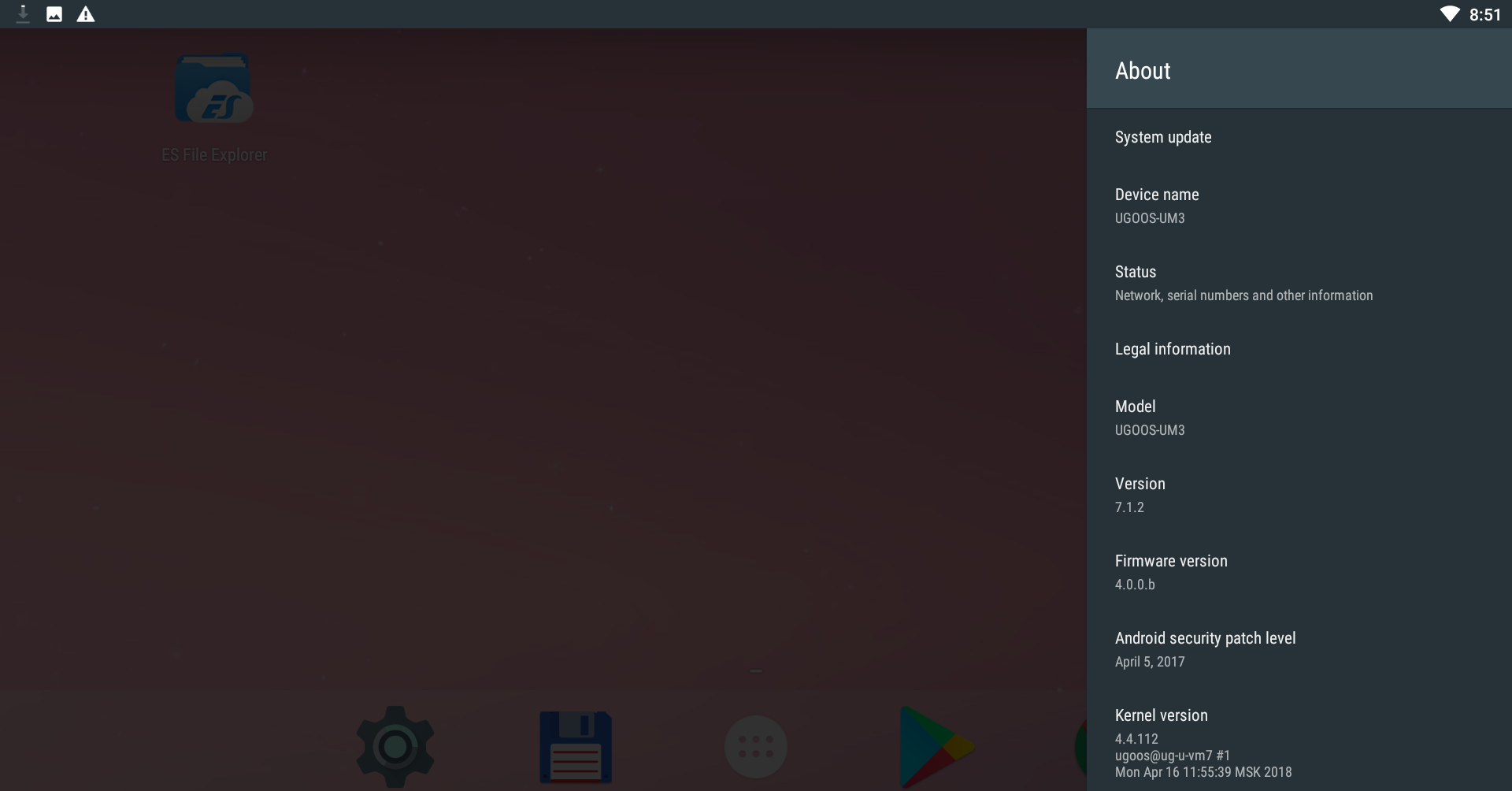 We try our best to provide stability and capability on the level of our Android 5.1.1 releases and even make it higher.
Since it is BETA release, Nougat firmware is available only for manual reflashing (Reflashing Guide), OTA is not available right now.
In order to make BETA build more friendly we already add Ugoos Settings and Features.
Here is short list:
CIFS & NFS Clients Support, Samba Server
Masked HDMI
Screen Rotation
Root
Hardware Monitor
Wireless Assistant
Gamepad Settings
Debug Settings
User Scripts
USB Mode Settings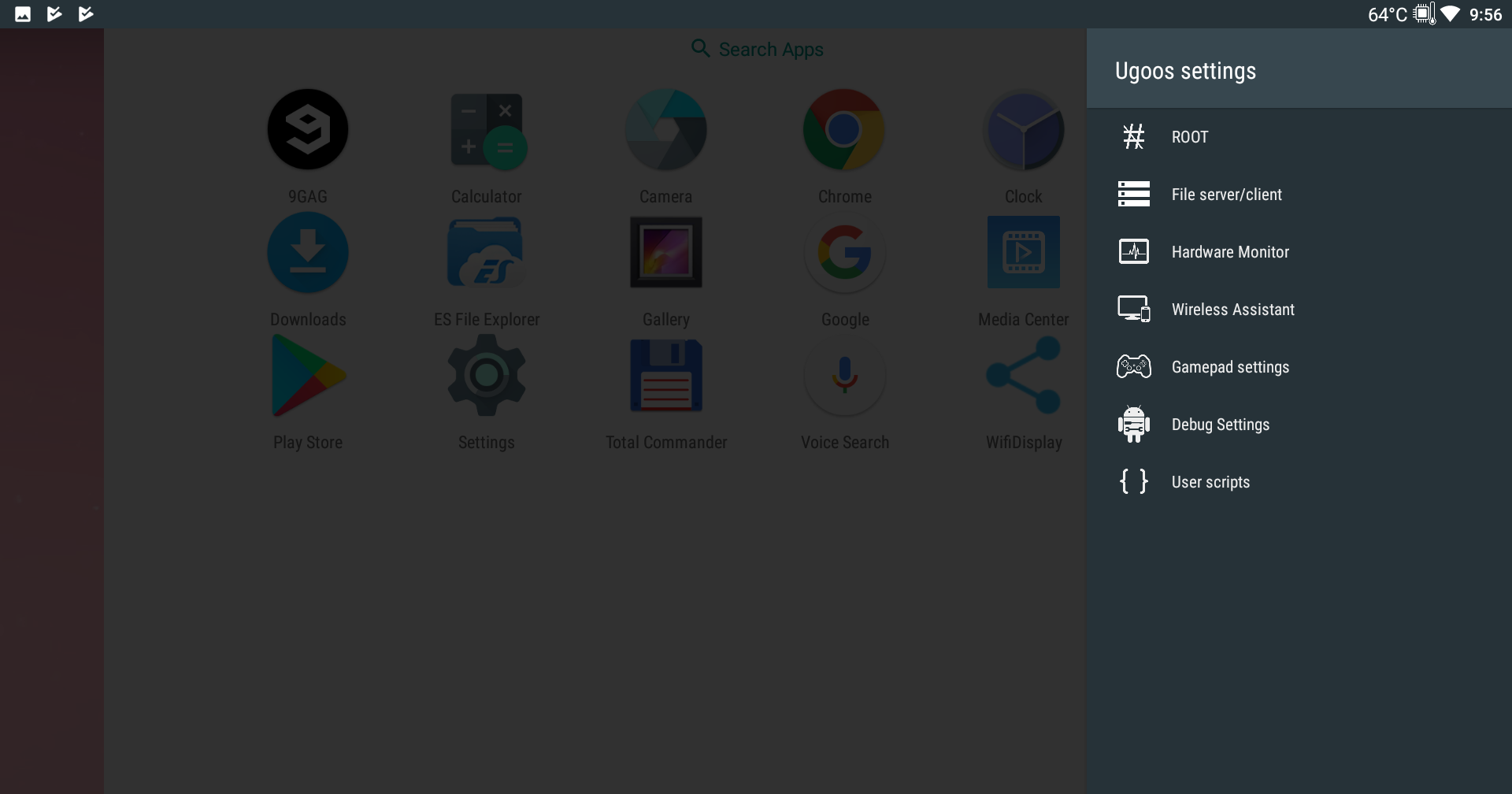 More information about Ugoos Settings you can find in previous posts.
Right now, we are still work on HDMI IN functionality for Ugoos UT3+, firmware for this device will be released later.
Download Link: Ugoos RK3288 NOUGAT UT3/UT3s/UM3 BETA 4.0.0b
---
Comment(S) (19)
Comment by sw88 | Monday, Apr 23 2018, 07:52PM

What about multiwindow feature?

Comment by Treris | Monday, Apr 23 2018, 08:34PM

Very good news, I have been waiting on this for a long (like many others I guess). Truth be told, I had almost given up on this update. Will gladly test once I have a little more time.

Comment by fred | Saturday, Apr 28 2018, 11:12AM

Je l'ai installé en suivant la procédure, je n'ai pas de son, j'ai essayé tous les réglages toujours rien, vite une solution

Comment by pkbw2000 | Sunday, Apr 29 2018, 04:15PM

Good job, only my remote controller not work.

Comment by fred | Sunday, Apr 29 2018, 09:37PM

i followed the procedure for my ugoos ut3s everything works, apart from the audio, on my tv c good, on my home cinema i have no audio, already tried all the settings

Comment by RAF | Monday, Apr 30 2018, 03:41AM

Great, news Ugoos, unfortunately my Ugoos UT3s just died like a month ago, so I had to replace it with a H96 PRO, which is way weaker on the graphics side and it crashes more often compared to Ugoos UT3s. It was the lack of options that pulled me to H96 PRO, it has his pluses too, but from many points of view it wasn't an upgrade. Still I really liked the UT3s, quite pleased 2 and 1/2 years of use for 100$.

Comment by dados | Monday, May 7 2018, 03:28PM

Even better, than every firmware before. CPU is a little hot and no audio on my home cinema.

Comment by jeanrhum | Wednesday, May 9 2018, 01:44PM

Nice rom with kernel 4.4, all seems working well on my ut3s 16GB (old model). I have sound from av port (I will try later through hdmi).

Comment by sohot2000 | Friday, May 11 2018, 03:19AM

Ut3s Tvbox WITH AP6210 or AP6335??

Comment by jpearn | Tuesday, May 22 2018, 06:41PM

So when will there be a Nougat firmware with HDMI-IN working ?

Comment by Pau! Kendall | Wednesday, May 30 2018, 04:59AM

I notice I am unable to copy/paste within browsers

Comment by Treris | Saturday, Jun 9 2018, 08:37AM

Any news on this? How is the beta going? Is there an updated beta coming soon?

Comment by Jeanmary | Sunday, Jul 1 2018, 05:37AM

For me, I have no issue with the sound (hdmi). It is better than the previous version (I had a issue with à sound that skipped sometime during 1 second) I notice with kodi the picture is darker No capacity to use as a chromecast. With an universal remote I have an different behavior (the remote answer too quickly. I will modify that) I prefer that version

Comment by Maurice | Tuesday, Jul 3 2018, 10:07PM

nice update!! went from 3.0.4 to this one and have found anything that isnt working. Even mask hdmi works :) only thing is that updating wiped all data on my ugoos, but its nice and snappy again! great work

Comment by Emmanuel | Thursday, Aug 2 2018, 05:37PM

Hello ! I love my UT3S box, however, I'm deseperate as you do not supply any dualboot Android + Ubuntu. Will you plan to propose such dualboot soon? Many thanks !

Comment by Kerim | Thursday, Aug 2 2018, 07:51PM

I also use my Ugoos UT3S extensively, and happy with my purchase. But I was really happy about the announcement of 7.1 release. I was wondering when will it be released? It's been more than 3 months since the release of beta.

Comment by Asaf | Tuesday, Aug 7 2018, 01:44PM

Looking forward to a complete release!

Comment by Koen | Saturday, Aug 25 2018, 06:14PM

While it is a very welcome improvement over the old version I encountered the following issues with it: - HDMI audio pass-through not working - Short HDMI signal loss, oddly happens after finishing netflix/youtube video - Bluetooth not working Remote controller does work for me

Comment by Iván Morales | Tuesday, Sep 11 2018, 05:54AM

Any news about this firmware?
Успешно отправленно