Ugoos UT4 firmware update 0.0.3b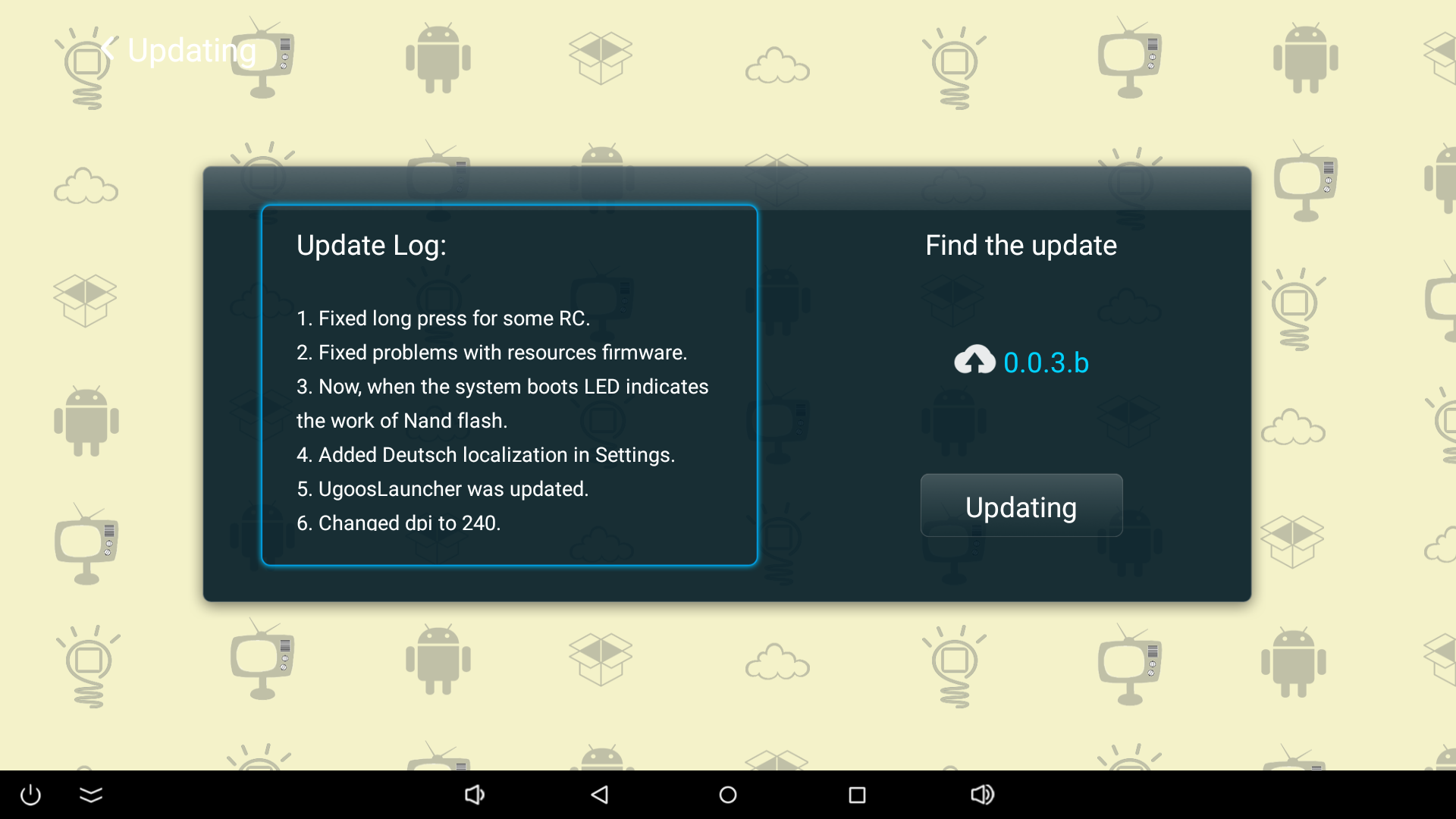 In this release, we focused on raising capability and fixing several bugs.
We fixed capability problems with some old remote controllers, now long press feature works with all supported RC.
In Settings, we added Deutsch localization.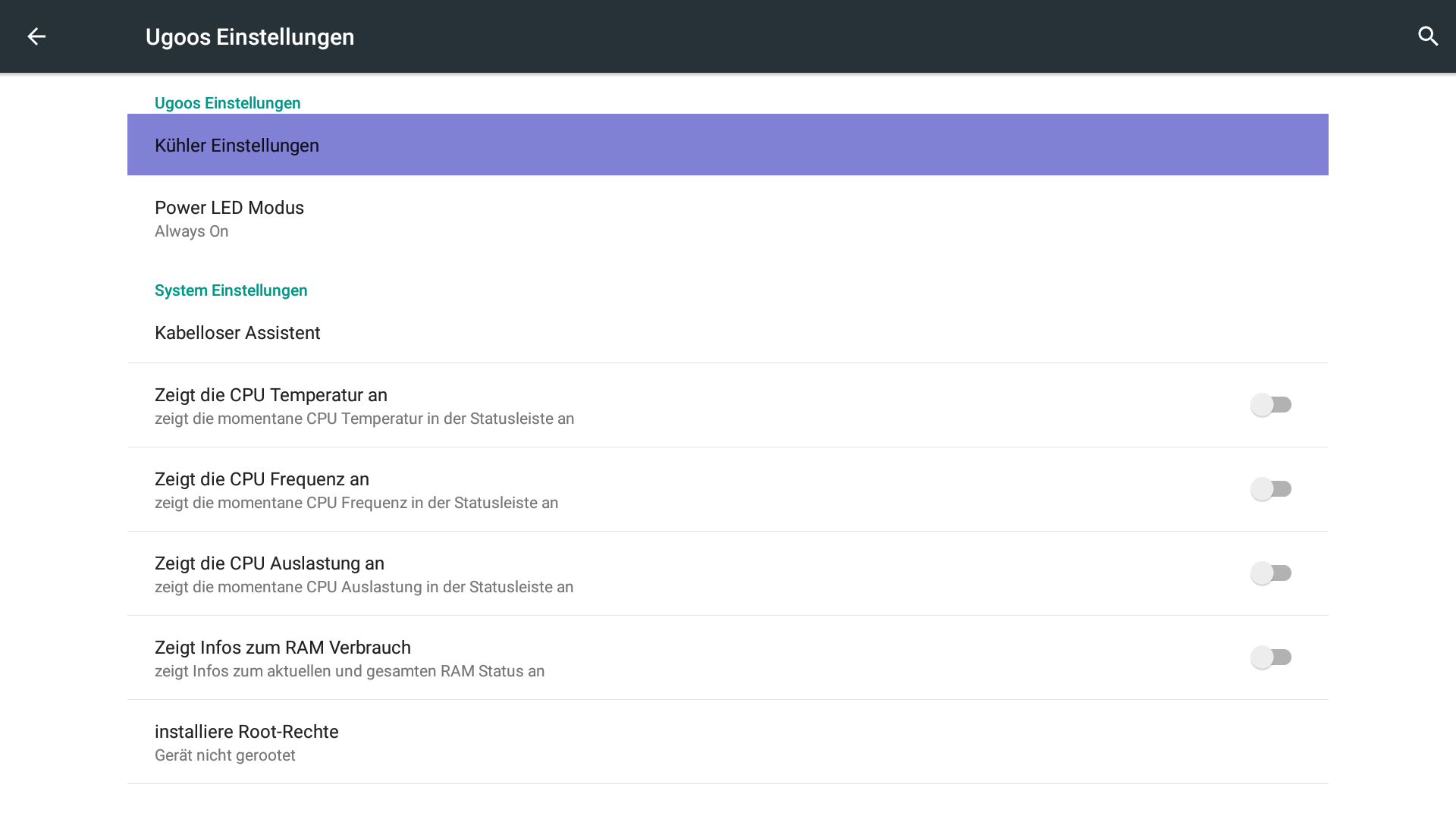 New version of Ugoos launcher also comes with OTA package: raise stability, reducing relation of dpi values and makeup assembling.
If your box doesn't have internet connection or has another firmware build please download full firmware and install it manually HERE
Full changelog
0.0.3.b - beta version
Changes from previous version:
1. Fixed long press for some RC.
2. Fixed problems with resources firmware.
3. Now, when the system boots LED indicates the work of Nand flash.
4. Added Deutsch localization in Settings.
5. UgoosLauncher was updated.
0.0.2.b - beta version!
Changes from previous version:
1. Now firmware has only one partition.
2. Improved video playback in side players (example: MXPlayer now use hardware decoders for video playback)
3. "Resent apps" and "Home" buttons on RC is now working.
4. Added features long press for remote control. Holding the "Menu" bar appears and disappears. "Recent apps" button activate/deactivate mouse function mode.
5. "Dismiss all tasks" button added in "Resent apps" window, also all apps can be closed using "menu" button on RC
6. "Power off" is now shutdown the device.
7. Added Ugoos Settings.
8. Added ability get root access (Ugoos Settings)
9. Added ability to control power LED (Ugoos Settings)
10. Added ability to control Fan (Ugoos Settings)
11. Added File Server.
12. Added support Google Widevine DRM.
13. Added support USB 3G Modems
14. Removed freezes on some devices.
15. Temperature of the CPU is correct. And it output for user apps.
16. CPU info (frequency, temperature, load), RAM info can be displayed in the status bar (Ugoos Settings).
17. Added ability to select usb sound card in Sound Device manager.
18. Added support Fireasy app (Ugoos Settings).
19. Added Ugoos Launcher.
20. Included Wifi optimization.
21. Added Chinese and Russian localization in Settings.
---
Find us:
---
Comment(S) (3)
Comment by tsouche | Tuesday, Feb 16 2016, 07:18AM

Can you confirm that, with this new firmware, MX Player will be able to render FullHD videos encoded in HEC 10bits? (my question is specific to FHD videos, assuming that UHD videos are properly rendered) Thank you for your feedback :-)

Comment by Admin | Thursday, Feb 18 2016, 11:45AM

Current firmware we have problems with hardware decoding h265 10-bit. In next version we will try to fix it.

Comment by Enrique Velez | Thursday, Mar 10 2016, 06:32PM

need 0.0.3b update for ugos ut4
Успешно отправленно