Ugoos Team showed new devices at CES 2017 held in Las Vegas. The same time RockChip (Fuzhou Rockchip Electronics Co., Ltd.) showed new RK3328 there. The new SoC are able to play 4K videos with H.265, H.264 and VP9 codecs, HDR, HDMI 2.0, USB 3.0
After CES Ugoos found out that current characteristics of SoC could be very useful and created a brand new device based on RK3328.
We call it Ugoos UM4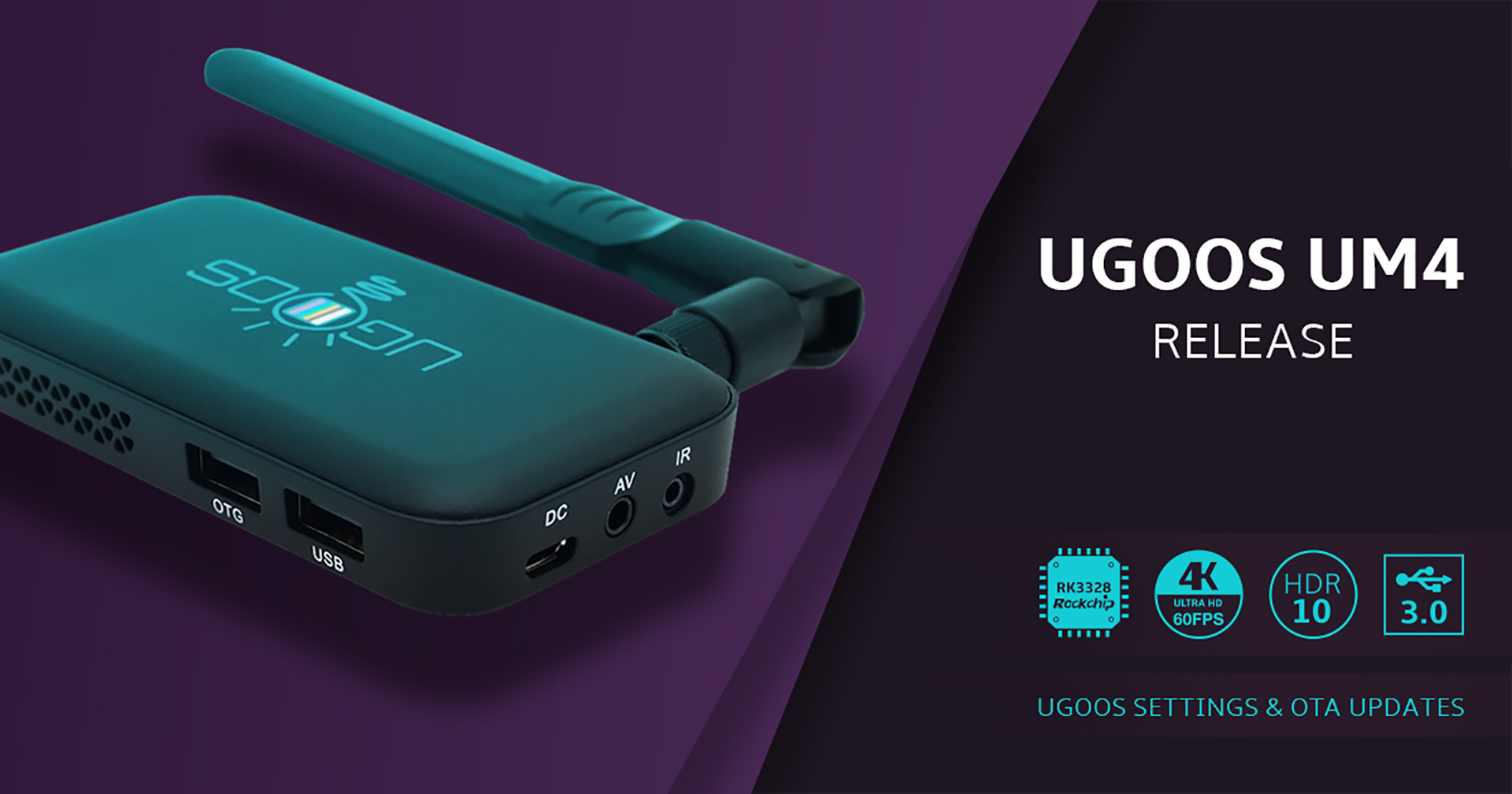 Since we use abbreviation "UM" you may already know that we choose dongle size for this device. However device using all advantages of a new SoC: one of USB ports has 3.0 extension and we provide 2 GB of top quality DDR4 RAM and 16 GB ROM in order to make sure device can handle all the tasks.
UM4 is the first Brand Ugoos device running under Android Nougat 7.1.2. Nougat brings new feelings in TV Box usage. New settings menu – combination of TV settings and standard phone settings looks fresh and more user-friendly for both Remote Controllers and mouse pointers. New animation looks up-to-date, smooth and have good reaction on RC actions.
Combination of 4K resolution, H.265, H.264 and VP9 codecs and HDR function make device a reliable all-format media center at home or small office.
UM4 is the first Ugoos device that welcomes users in a new way – running a setup wizard.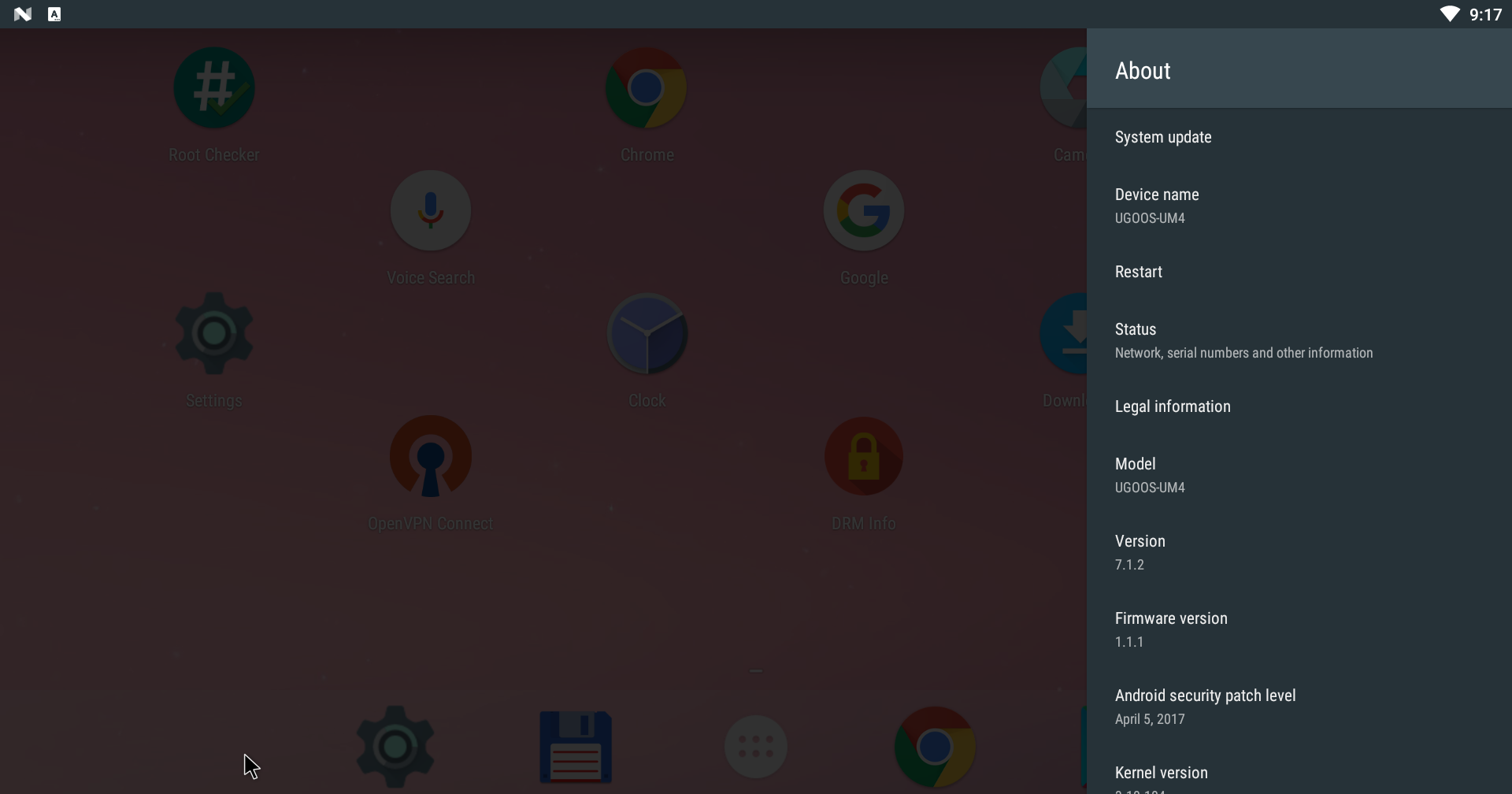 Of course, first firmware revision will brings all exclusive Ugoos Features already: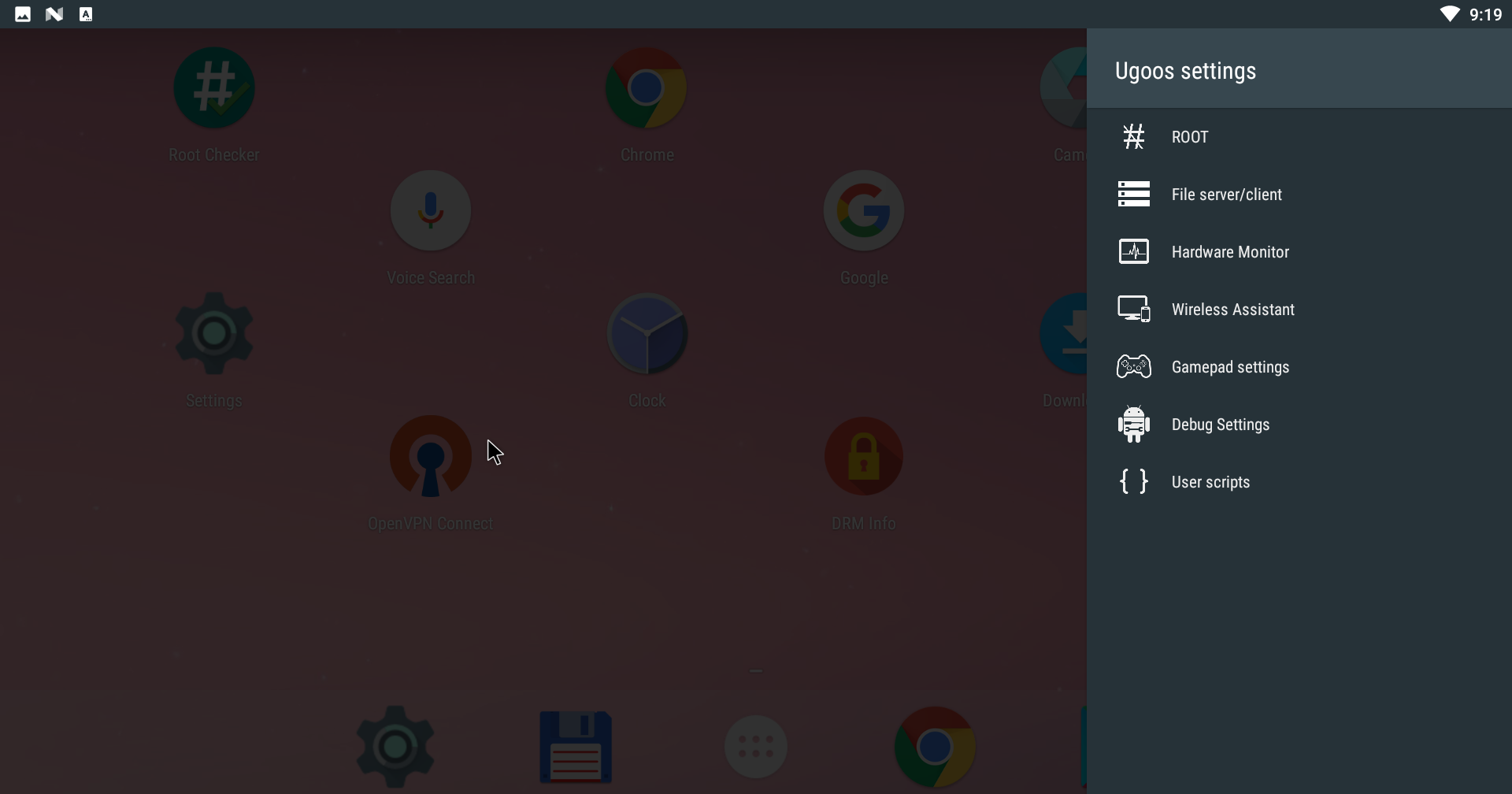 Root
Root feature gives you access to the entire operating system of your TV Box. Certain applications requires root rights to operate in system. Be careful while using this feature, application activate it for should be trustful. Device rooted without reboot, but if you want to undo all changes, system will ask to restart device. For managing separate applications, you can choose Supersu installation. Popular function installed on all up-to-date Ugoos TV Boxes.
Activate Root access you can in: Settings - Ugoos settings – System – Root.
File Server
File server (Samba) allows sharing files among different OS devices in local network. This feature was one of the most popular functions on Ugoos boxes based on Android 4.4. and 5.1 based on RockChip and Amlogic SoCs. File server can work via Wi-Fi connection, but if load will be big, may need to use LAN adapter via USB to make this function proceed more effective and fast. In this release new local networks functions were added: NFS client and CIFS client. These functions make shared Windows folders visible in Android system.
Samba server available in Settings - Ugoos settings – System – File server.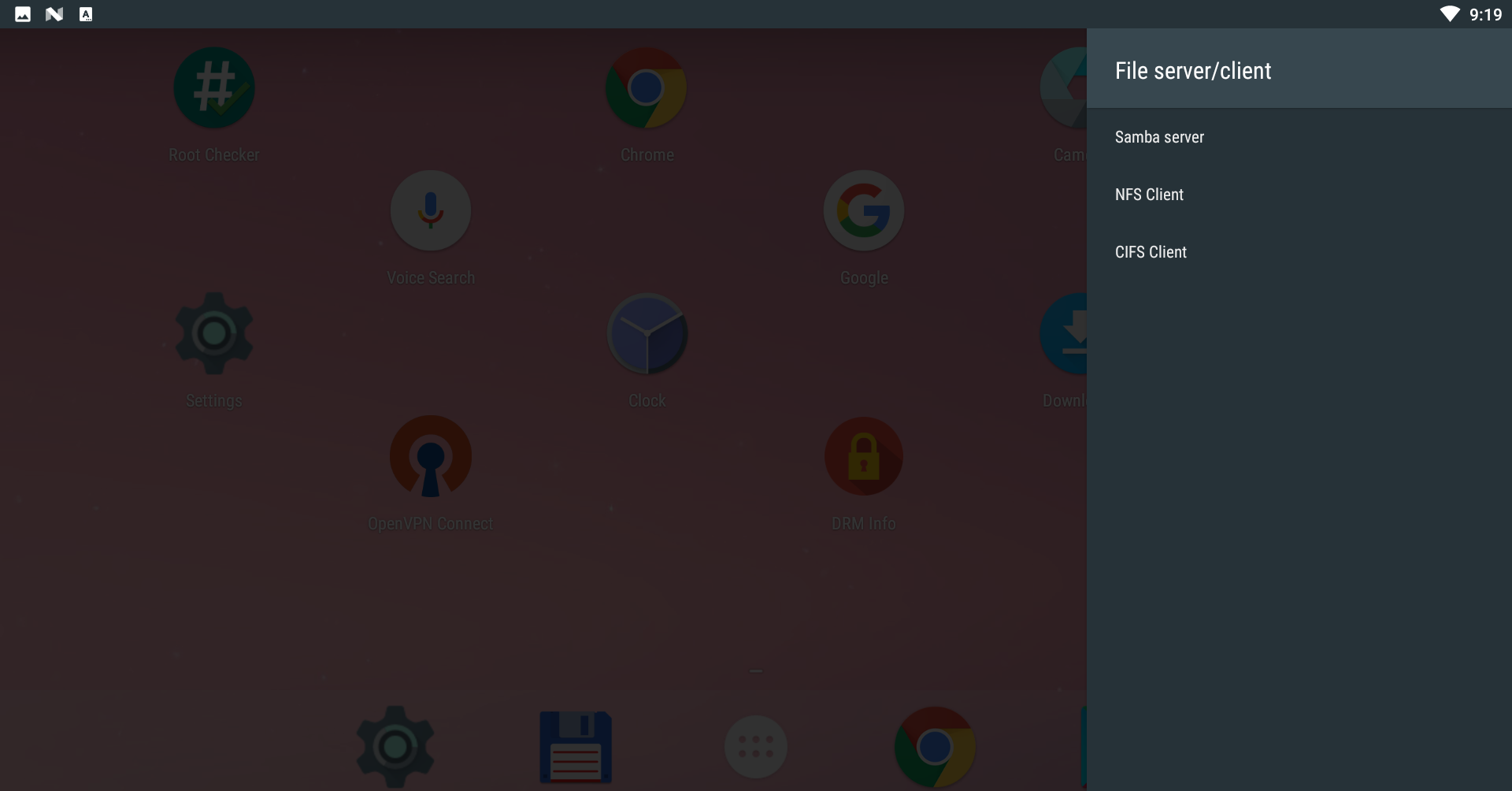 Hardware Monitor
Hardware performance visualization is a useful feature if you prefer to control actual work and speed of your device.
Now you can control your Box hardware performance more effectively. We added ability to place animated graphic icons in the upper bar, which can show real time main hardware values.
Wireless Assistant
Users can control TV Box, play Android games with your mobile device being a wireless game pad and share media resources with Ugoos Box through the application.
You can activate Fireasy assistant from settings menu: Settings – Ugoos Settings – Wireless Assistant.
Mobile application for IOS and Android devices you can download using QR code on the screen or run ugoos.net/remote/
Gamepad Settings
GS let you extend personalization of your TV Box and get more advantages during gaming process. Just connect you favorite gamepad run Ugoos settings – Gamepad Settings. In upper menu, choose previously connected gamepad and set buttons and axes. Save and share profiles with your friends who also has Ugoos devices. More about Gamepad Settings in previous posts.
Debug Settings
Another exclusive option will be useful for developers. Simple switchers let you connect device for application diagnostics using ADB via USB or Wi-Fi. Also Debug settings gives ability to gather Log files during TV Box processing.
In first firmware, we already add some additional functions can be useful for casual usage and digital signage providers:
Screen rotation
In Display settings, we add simple switcher in case if you need to use unusual screen rotate format. Besides Landscape and portrait format, we also add reversed versions of these positions and original mode to let applications choose rotation by system settings. Screen rotation also available in upper bar like in cellphones.
Autoframerate
Via playback of many video samples, we concluded that sometimes AFR function in KODI is choosing best options for playback due to different video parameters. For more convenience, we set tree options for Frame Rate:
System resolution
Video resolution priority
Frequency resolution priority
Kodi has their own Frame Rate settings, so these options enabled in other players with using generic codecs.
Reviewers and first customers will get UM4 very soon. Stay in touch to obtain more information about incoming UM4 details.
---
Find us:
---
Comment(S) (1)
Comment by R. D. | Sunday, Nov 12 2017, 03:06AM

Interesting unit. Looking forward to impressions of the UM4. As usual, Ugoos' special firmware features and continued support, make a world of difference, when compared to competitor's devices.
Успешно отправленно