Ugoos UT3/UT3S/UM3 firmware v 0.3 with Linux released!
Hello. We are pleased to announce the release of the new version firmware with Linux. Firmware is available for owners Ugoos UT3, UT3S and UM3 devices.
Now we use new method for building firmware. This will speed up the process of development of new firmware and will improve their quality. Linux part firmware based on Ubuntu 14.10 with XFCE. For Android part using latest official firmware v2.0.6
Especially for our devices, we have developed software that will allow you to control the hardware parts of the device. "uSettings" for all devices and "HDMI IN" for Ugoos UT3 devices.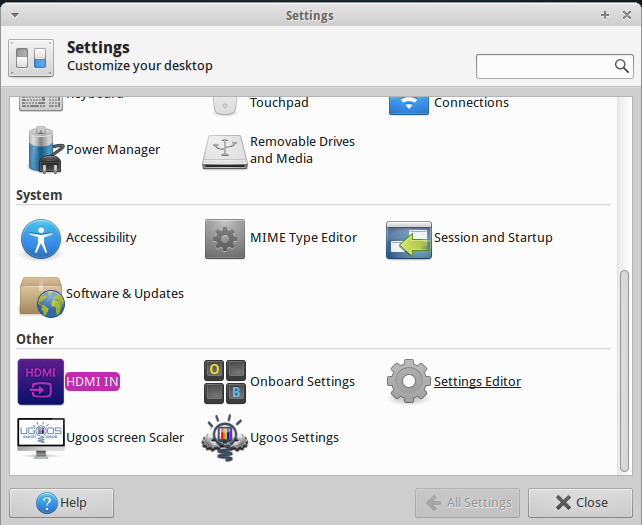 uSettings designed specifically for UT3, UT3S and UM3 devices. It will allow you to control the fan, led and HDMI input.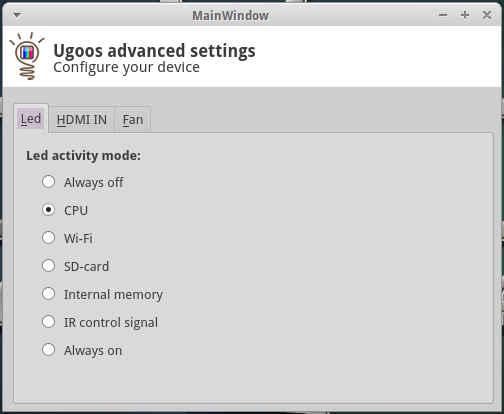 Application "HDMI IN" will allow owners Ugoos UT3 switch the image source manually.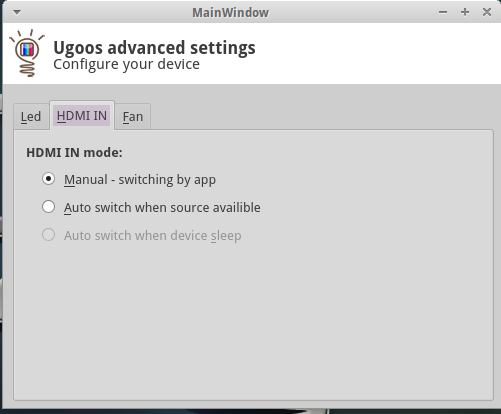 In the current kernel is enabled support of NFS and include binfmt_misc module. binfmt_misc module allow using virtualization to run binary files with other architectures. For example you can run skype on your device. For using virtualization you need first install special software.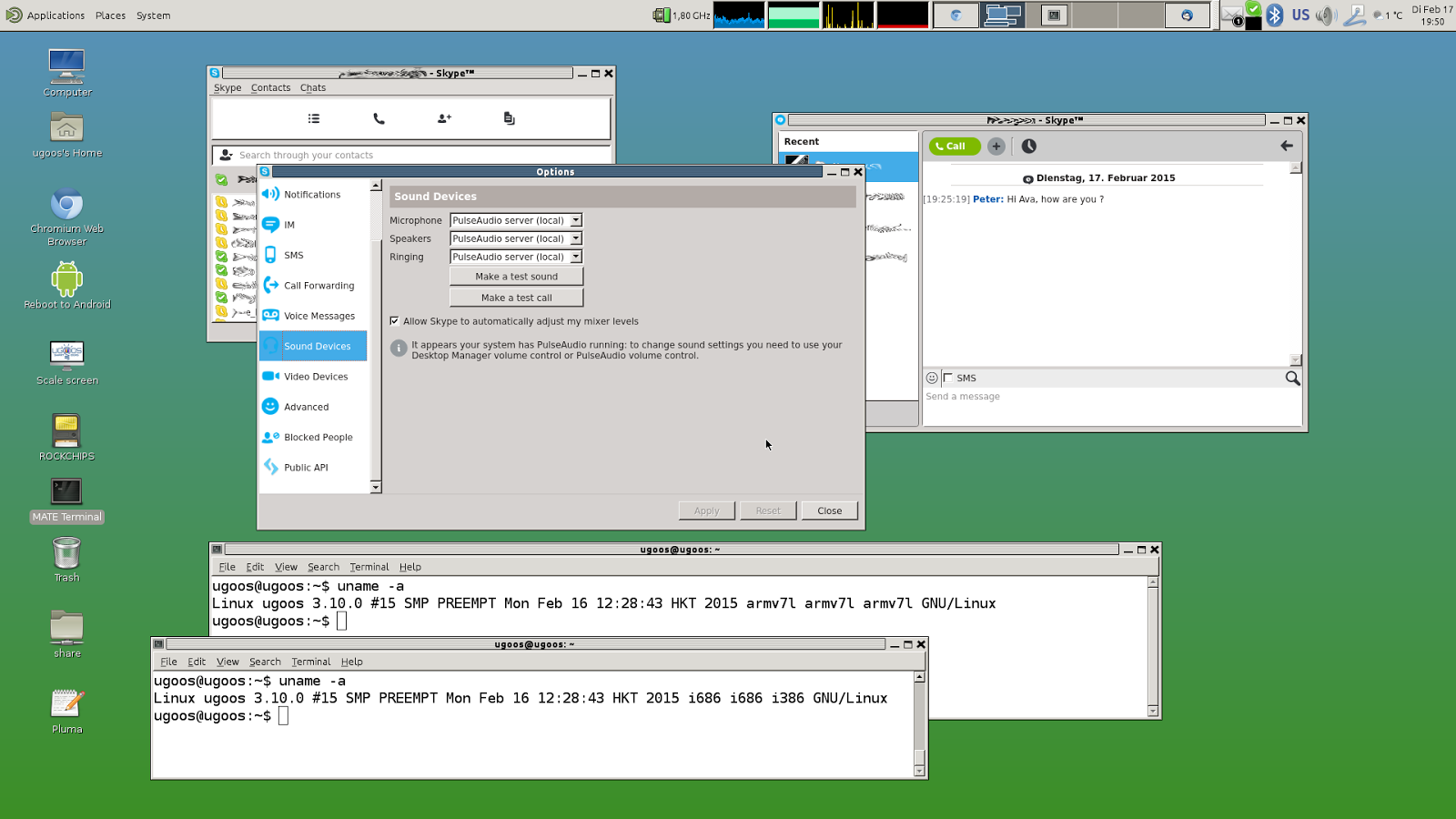 In current firmware we include latest available user space GPU driver for fb. Unfortiently in the current time driver for X11 not available. But you can use this driver if you need OpenCL for example. To check the libraries we used examples from official Mali OpenCL SDK and Mali OpenGL ES SDK for Linux (http://malideveloper.arm.com/develop-for-mali/).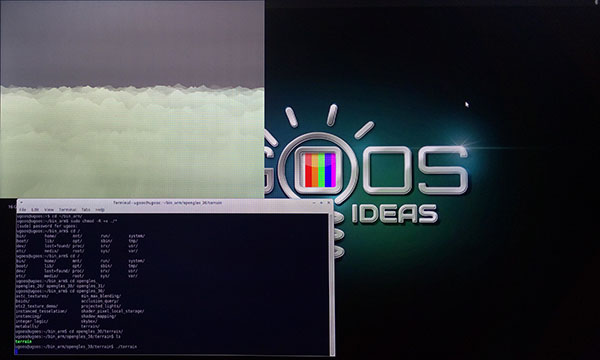 Change list:
Added/changed:
1.Linux: Add special Ugoos applicatios in linux:
- App for switching image source to HDMI IN port (for UT-3)
- App for led, hdmi in and fan settings
2. Linux: Add applications: nano, gnome-system-monitor, and screen keyboard - onboard.
3. Linux: Add support of NFS in kernel.
4. Linux: In kernel was include binfmt_misc module.
5. Linux: Update kernel space GPU Driver (TX011-SW-99002-r5p1-00rel0).
6. Linux: In system was included user space GPU driver for fb .
Was checked work libs OpenCL and EGL with official Mali OpenCL SDK and Mali OpenGL ES SDK for Linux.
7. Linux: All packages was been updated to the actual state
8. Dualboot: Android firmware was been updated to Ugoos firmare v2.0.6
Bug fix:
1. Linux: Temporarily disabled support of 4k resolution in linux kernel. Maximal resolution 1920x1080.
Important! By default Android tool configured to flashing "clear" android on your device. If you want install
"Dualboot" or "Clear linux" click right mouse button by program window, and then select
"Load config".
Then choose one of configurations files:
- config.cfg - if want flash only Android
- config_dualboot.cfg - if want flash dualboot
- config_linux.cfg - if want flash only linux
Full firmware updating guide for you device you can find in archive.
Download:
Firmware for UT3S - download
Firmware for UT3 - download
Firmware for UM3 - download
login and password for Ubuntu : ugoos
Find us:
---
Comment(S) (5)
Comment by nexgen | Saturday, Mar 21 2015, 04:34AM

how to change partition size for dual boot rom ? 16go for linux / 16go for android with full memory space for no data limit ugoos ut3s 4/32 thanks

Comment by Miguel A. | Thursday, Apr 2 2015, 08:23PM

I bought the product "Ugoos UT3S version 4GB / 32GB" that came with the firmware v2.0.5B (I have not tested this version with no file) and as soon as I connected it asked me to update (OTA) to the v2.0.6 version . After upgrading am about to try some video and audio file with the result that does not play any sound. I tried searching the original version (V.2.05b) because as I see more people on forums have been the same but can not find. I've also tried putting on the version DualBoot android + Linux Ubuntu but I have not managed to install it. Could you put a video on how to upgrade to version DualBoot? Could you get on your official website version (V 2.0.5b for Ugoos UT3S 4bGB / 32GB supposedly has no sound errors) and an explanation for fools as updated correctly ?. Is that right now I have a device that helps me to little by not issuing any audio. My preference series have a DualBoot with the new version but the sound work correctly.

Comment by admin | Tuesday, Jun 16 2015, 08:24AM

You can find our new Android firmware 2.0.8 in download section, or by the OTA, Sir. All sound bugs fixed.

Comment by albs | Saturday, Jul 4 2015, 06:43AM

A lot of bugs on xbmc and file explorer dosent show usb drivers on version 2.08 ut3s i had to switch to 2.07 it runs much better

Comment by yev | Sunday, Jun 5 2016, 04:21PM

Hi, After booting with your special XUbuntu image on SD card, I have lost my HDMI IN capabilities. The HDMI IN settings in your app is disabled. What is going wrong? Сan you advise how to fix it?
Успешно отправленно